National network responsive to your needs
Every week, nearly 200 Morgan trucks deliver hundreds of thousands of pounds of laundry from our plants coast-to-coast. All Morgan facilities nationwide are company-owned, meaning we share best practices, standardized processes and a commitment to deliver great service at a fair price. Please let us know how we can help you with any questions you might have about our programs, products or capabilities.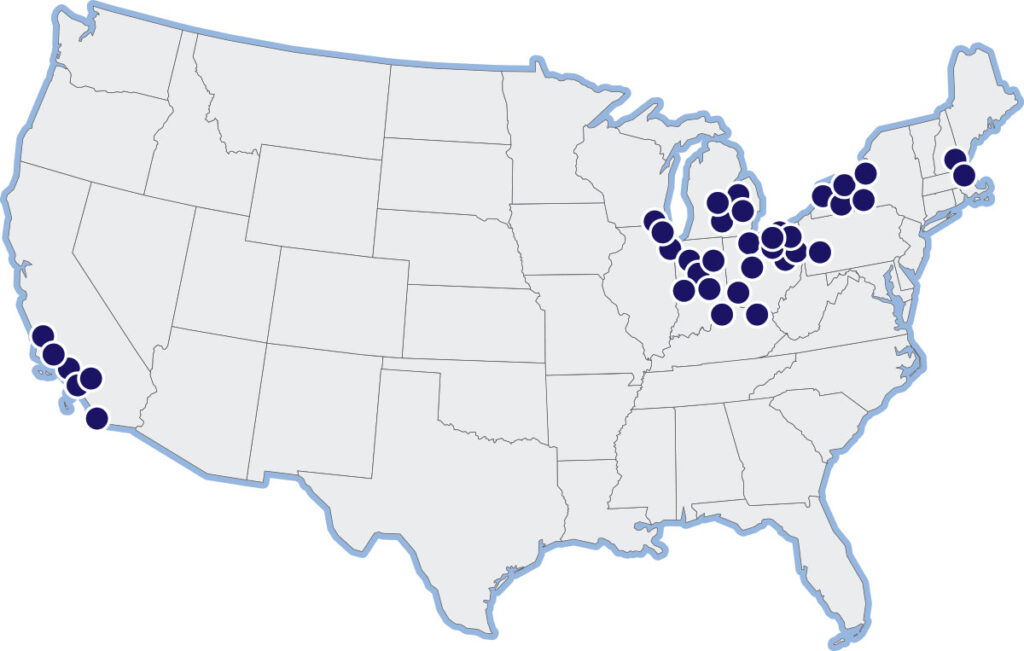 Get in touch with your local branch to learn more about linen and uniform rental services in your area.
Akron, Cleveland, and Youngstown, OH & Pittsburgh, PA Area
Akron, OH
Canton, OH
Cleveland, OH
Youngstown, OH
Pittsburgh, PA
Los Angeles, CA
Orange County, CA
Palm Springs, CA
Riverside, CA
San Diego, CA
Cincinnati, Columbus, Dayton, Eastern IN, & Northern KY Areas
Cincinnati, OH
Columbus, OH
Dayton, OH
Indianapolis & South-Central IN Area
Bloomington, IN
Columbus, IN
Indianapolis, IN
Kokomo, IN
Lafayette, IN
Muncie, IN
Terre Haute, IN
Northwest OH, Northeast IN, & Southwest MI Area
Findlay, OH
Toledo, OH
Ann Arbor, MI
Detroit, MI
Flint, MI
Lansing, MI
Fort Wayne, IN
Western NY, Rochester, Northwest PA & Syracuse Area
Buffalo, NY
Jamestown, NY
Rochester, NY
Syracuse, NY
Erie, PA