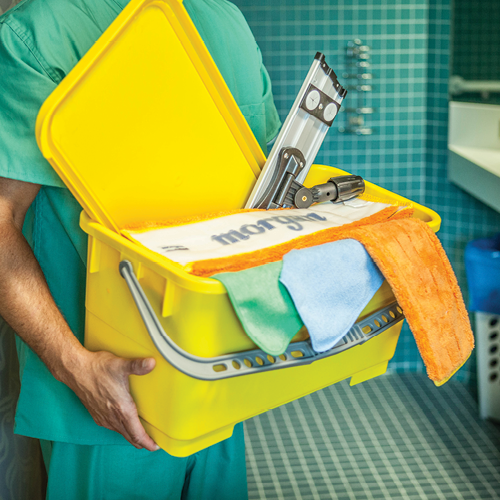 Controlling costs, controlling infection
Premier provider of microfiber cleaning services
The Morgan Microfiber Program is uniquely designed to solve the most pressing microfiber concerns of your infection control team: product shortages, reduced microfiber quality, improper staff training, and lack of accountability. It delivers the critical advantages you need: enhanced productivity, lower costs and, most importantly, protection against the spread of Hospital Acquired Infections (HAIs).
Full range of microfiber products
Morgan offers a full range of microfiber cleaning products, including microfiber cloths, buckets and our exclusive Super Mop. The microfiber Super Mop's folded edges allow for 100% microfiber cleaning surface.
 'Super Mop' is a top performer:
Can be used wet or dry and is able to eliminate dust mopping prior to wet mopping
Single use per room eliminates potential for cross-contamination
Reduces water and chemical usage by 70%
Training your staff
Morgan's dedicated experts are available to teach new staff proper microfiber cleaning techniques. Our training videos highlight how to minimize water and chemical costs and protect the life of your microfiber products.